The Bullingdon Arms, Oxford (UK) 3/10/1999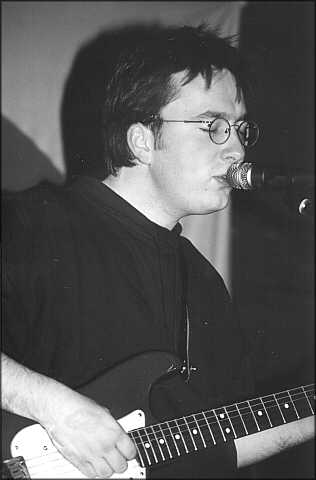 New: Pics by Peter Cole !

From : Ulen
Date : 4/10/1999
Suject : (UT) Nigel Powell (plus special guests)

Or "How to fill a gig on a quiet Sunday evening"
We (me and Alan) went up to the Bully on Weds to get our tickets for Nige's gig. It was girlies night, so we paid our £4 to go and watch the last 3 out of the 5 bands that were playing (Kamikaze Kittens; Liquid Stone and Vyvyan). During the band changes the "DJ" kept plugging Sunday's gig. They played a cover of Street Spirit (by Holy Roman Emperor) and he said we could hear more like that on Sunday. Then he said (about 3 times) we'd better HEAD down there after listening to the RADIO as Nigel was performing plus some Very Very VERY special guests.
He said he couldn't say who the guests were, but that tix were £4.50 in advance, but SIGNIFICANTLY more on the door. Well I wasn't the only one to put two and two together and get five. I told my mate Jof at work about the rumour, and he said could I get him a ticket. He likes ut too, but was drawn but the possibility, however slim, of a rare sibling appearance. So I went to the Bully after work on Friday to get one of the last dozen tickets. Rumour control had obviously led to a run on sales. So I asked them outright, "What's this I hear about the special guests?" to which they said "Why what have you heard?"
"That Thom Yorke's playing" was my reply. With a sly grin that I took to be a yes they said "We can't tell you".
Well we got there early (7ish): me, Alan, Jof and Chris, having met up with Emily and Beth outside. While enjoying a quiet drink in the front bar it transpired that Andy was doing the soundcheck (singing Stone). We discussed various fantastic combinations of who the special guests may turn out to be, but generally we were just looking forward to Nige's gig. it was his night after all.
We took our seats early near the front, and waited an hour for the gig to start. Jim and Jason were there doing final soundchecks to the guitars. Hmm. This is going to be an odd Solo performance...
Nige came on-stage at 9pm, and made himself comfortable behind the keyboard at the back. He introduced himself, and then said that notwithstanding any rumours to the contrary, no member of Radiohead would be appearing, and that if anyone was disappointed they could leave now - he wouldn't be in the slightest bit offended, and they should ask for their money back.
That out of the way, he explained how much he was bricking it and then settled into his solo opener. A beautiful song about an Angel (I think). "Well that wasn't too bad was it?" he quipped after the applause died down. Then he launched into an (early genesis?) number, which he fluffed the intro and started again "Nerves" he apologised.
Afterwards he gave some advice for anyone attempting a solo performance to be sure to play a very difficult number as it'll be sure to help!
Then he explained how flustered he was feeling and that he'd cop out and get Jim to sing the next song. Is their no limit to the talent in ut? Yes. Jason was invited on for the next number and Jim said Jason was supposed to sing, but wasn't going to. Tehe.
After the three of them covered Hurry, please Hurry (aha I song I recognise) Nigel explained that he hadn't really had any intention of doing a complete gig on his own anyway, and if Andy happened to be about would he come up and sing...
So now we get down to business. It was a ut gig in disguise, supposedly to air all their new stuff to a largely unexpectant audience, of about 2 people. The fact that they were playing to a packed house didn't deter them, although the noise from all the gits chatting away loudly at the bar (having obviously given up on the gig when the wrong Yorke turned up) did piss me off. Oh that and the tosser behind me shouting for Revolution (to which Andy simply retorted "Never again").
Anyway, we were treated to nearly 2 hours of music, about half of it all brand new material. There was "No setlist" in as much as there was one, but they didn't stick to it.
Regular stuff included:
Building
Higher than reason
Who's To Know
Ciao My Shining Star
Stone ("Excuse me I said this one's called Stone")
Dune Sea
Shed Your Skin
Solved
Of the new material Nige introduced one as "Can't Wait" and another they played "From the new album. And it rocks!" Andy told me afterwards was "Agony". And it did. (Rock that is).
And that was it. No encores, but then 20 or so songs for £4.50 was tremendous value for money.
Chatting to Andy after I said it was a surprise to see him, and that we'd been told his brother was playing. He said how annoyed he was that this rumour had been put out. I suggested that it had just been a con to fill the place up on a Sunday, and he said that it had certainly worked.
News (from Nige - excuse the verbatim reporting), progress with the album has been bugger all, is currently bugger all and the forecast is continuing bugger all. From the sounds of new stuff we heard, mind, it definitely seems like it's going to be worth the wait.
Plans for a Tour soon? None. Hopefully early next year.
Will there be a single this year? No.
I said I was disappointed he had only played two solo songs when it was supposed to be HIS solo gig, and he said he had had a few more up his sleeve, but was too nervous to keep playing on his own.
So all in all a rare treat, but I would like to think I'll be very tempted to boycott the Bully from now on for their blatant mismarketing campaign. Obviously with hindsight the sly grin I was given when I got Jof's ticket was amusement that their ploy had worked so successfully. It annoys me that when I asked them a straight question, they declined to give me a straight answer.
And, no, before anyone asks - I didn't record the gig.
Ulen.